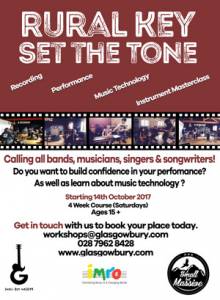 "I am making music that I am proud of and this is something the Rural Key project and Glasgowbury inspired me to do"
John Gribbin
(New York based Building Pictures)
Calling young bands, musicians, singers and songwriters!
Glasgowbury is a Draperstown based music, arts and multi media organisation whose aim is to provide access to creative activity to those from rural communities. 'Rural Key – Set the Tone' is an opportunity for young people to join a music programme aimed at creative and personal development, giving them a safe space to progress musically and network with other musicians.
With sponsorship from IMRO (Irish Music Right's Organisation), who are synonymous with helping to showcase and support emerging talent, we are excited to get the next phase of workshops underway.
Starting on Saturday October 14th ,10am – 3pm, 'Rural Key – Set the Tone' will see the Cornstore Creative Hub buzz with music workshops that will focus on building confidence in your instrument and performance abilities along with learning new technology skills. Course content will include artist/band development and performance, exploring song writing and cover songs, music technology and recording.
The initial course will take place over 4 weeks. After the course ends young participants will have the opportunity to continue to meet and use the Cornstore as a creative space to further develop their music and skills. It is an invaluable experience for those involved, to meet like minded people and have fun. It is a particularly good stepping stone for those participants interested in exploring higher education opportunities and careers in the music and creative industries.
The 'Rural Key' project started in 2004 and over the last 13 years has been a driver for community based music education offering everything from basic music tuition in a variety of instruments to the release of original music EP's and albums.
Rural Key Alumni include:
Shauna Tohill (London based Rews)/Marshall Records) -"My expectations were met and exceeded; they go out of their way to help peoples creativity flourish… In one sentence, my experience with Glasgowbury has been (and is) such a fantastic one – They have given me the confidence to be who I am today as a musician (and a person).
Shea Tohill (Dublin based Orchid Collective) – "Glasgowbury/The Rural Key has provided complete inspiration, encouragement and great advice, loads of tea, opportunities to get involved in music, playing great gigs meeting new people and forming new friendships.
If this sounds like something you would like to get involved in and you are aged 15 and over then get in touch with us.
Email us at worskshops@glasgowbury.com or call us on 02879628428. www.glasgowbury.com