For general enquiries drop us a line!
The Glasgowbury
Small But MASSIVE crew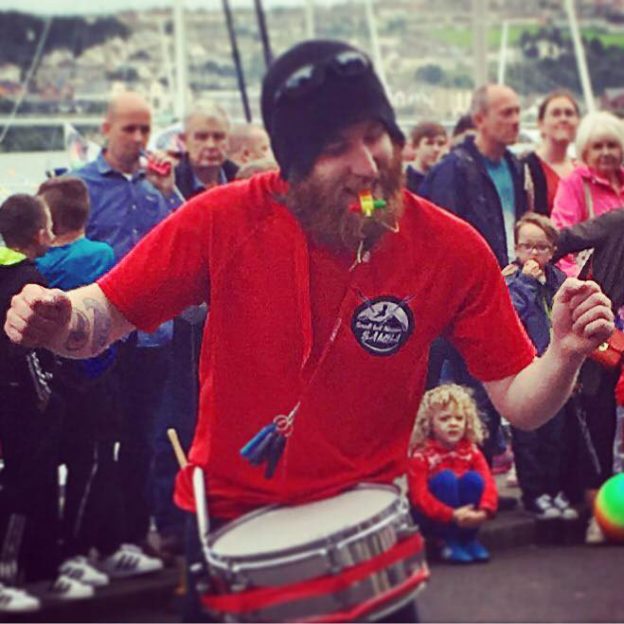 Fionnbharr Ó hÁgain
Drum Tutor | Samba Leader
Having played drums for 15 years my love for the noise has not deminished in the slightest. Having first started lessons in school my first performance experiences came through the schools orchestra although I soon ventured into the world of rock with a range of bands.
READ MORE
Through these bands I have had the privilege of touring throughout Ireland, the UK and Europe and the once in a lifetime opportunity to headline the 2011 Syncronicity Festival in Kanpur India.
Here at Glasgowbury I am pleased to be able to offer a range of services including one to one drum kit lessons, group workshops in African hand drumming and group workshops in Samba drumming. All lessons and workshops are offered to people of all abilities.
One to one drum kit lessons
With one to one lessons the end goals are set by the individual students whether they want to study for grades or just want to be able to jam with some friends. Drumming will increase your self co-ordination through the use of all four limbs, will decrease stress and anxiety levels and keep you fit all at the same time.
African hand drumming workshops
Using simple rhythms and vocal patterns we aim to improve the team work within a group where participants are encouraged to help each other and work together to create a unified sound. Hand drumming techniques will help improve hand to eye co-ordination and activates both sides of the brain in what is an enjoyable communal experience.
Samba drumming workshops
Originating in Brazil the up tempo rhythms of samba rarely fail to make an audience move. Through these workshops the groups will use a variety of percussion instruments playing simple counter rhythms to create the overall sound. This encourages team work on two levels as each section must maintain their own rhythm and stay in sync with the group as a whole. Another way to improve self co-ordination and have some fun while making music and exercising you're never to old to unlock the rhythms within.
Small But Massive Samba Band
Founded in late 2013 the Small But Massive Samba Band has grown from a small group of drumming novices to a 22 member strong, energetic drumming troop. With rehearsals every Thursday night in the Cornstore Creative Hub the band work hard to bring the "drum shine" with up lifting carnival rhythms to a wide range of community events including Derry City's Banks of the Foyle Halloween Festival, Draperstown Busking Festival and Dungannon's Picnic In The Park.
With plans afoot to create a junior band and creating new performance pieces we hope to keep the beats pumping for many years to come.
HIDE TEXT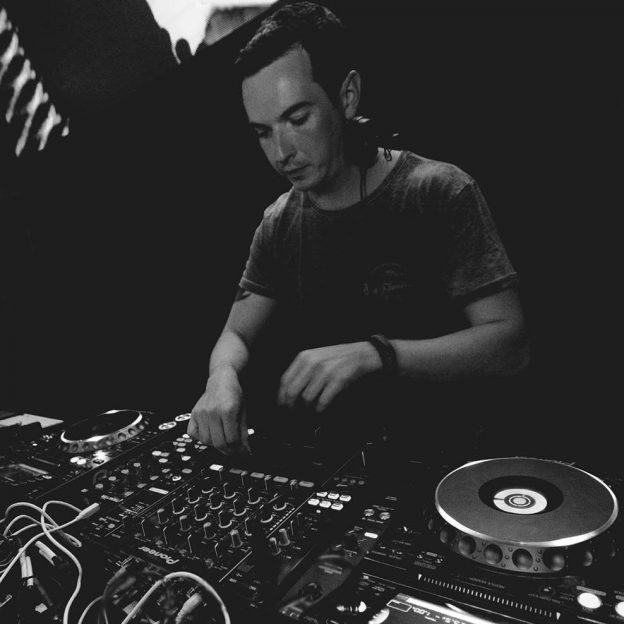 Ryan Gallagher
DJ, Music Production, Digital Tutor | Web
Hi, I'm Ryan. I've been working with Glasgowbury since 2014. Whether it's teaching DJing, Music Production, Podcasting, Photoshop or Junior Programming (Scratch), or designing posters, flyers or for the website – it's fair to say that I am kept busy!
READ MORE
I managed the I AM Project for 4 years with Glasgowbury. I also hold a degree in Interactive Multimedia Design, and as a DJ I have played in many top nightclubs across Ireland, the UK and Ibiza.
Being part of the Glasgowbury team has played a vital role in my own development as an artist, and I have many exciting projects lined up! Check out my website for further details: www.djryangallagher.com
HIDE TEXT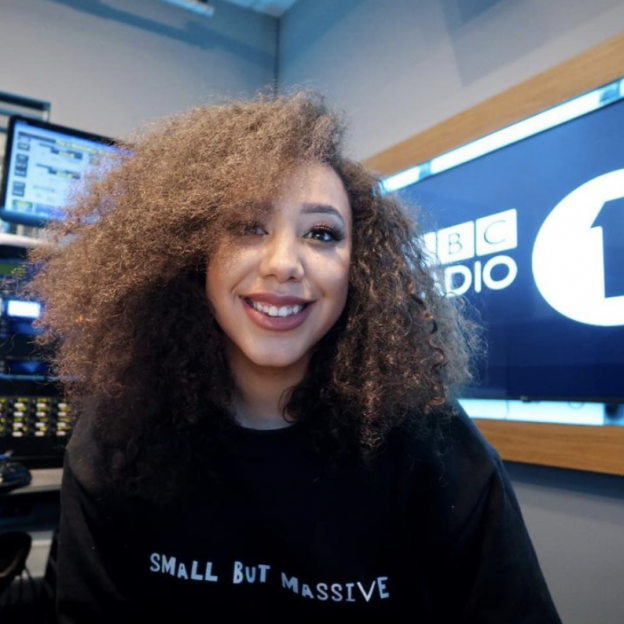 Gemma Bradley
I'm a guitar and songwriting tutor here at Glasgowbury. I've been teaching here now for since about 2015. I hold a degree in Commercial Modern Music and Songwriting – which comes in quite handy when teaching.

READ MORE
I've been involved with Glasgowbury from the age of 9, through their Rural Key programme, so it's nice to be able to be a part of the education of the next generation of participants.
1. Tell us what you do here at Glasgowbury Creative Hub?
I'm a guitar and songwriting tutor here at Glasgowbury.
2. What is your favourite thing about your role within the GTEAM?
My favourite thing about my role in Glasgowbury is that it's a family and I love having the opportunity to help the next generation succeed on their music paths.
3. What has been a highlight of your time here?
One of my highlights has to be the Rural Key showcase, getting to see all of the kids hard work pay off as they performed their songs on stage.
4. For you, what is the best thing about the creative hub?
For me, the best thing about the creative hub is the freedom it gives people with their music. It allows you to do what you want to do in a friendly and constructive environment.
5. Has there been a moment when you felt that you really achieved something, or assisted with participant achieving their goal?
There have been many moments when I have felt I've assisted participants with achieving their goal, whether it be learning how to play a certain song on the guitar, learning a new type of picking technique, being able to hit that note or write their first song.
6. What are you skills and experience?
My skills lie in singing, songwriting, performance, presenting and guitar playing. I have been playing, singing and songwriting since the age of 9. I am a singer/songwriter and have played various festivals and venues such as; Electric Picinic, Other Voices Dingle, Glasgowbury, Stendhal and many more. I was also crowned as the 2018 winner of the Christie Hennessy Song Contest and have been on many Songwriting retreats; Nashville, Tileyard in London and Bayview in Carlow etc.
My distinctive sound has piqued the interest of a number of radio DJs as far away as WPPM in Philadelphia as well as several slots on BBC Across the Line and BBC 6 Music Introducing and RTE 1 Radio shows.
I am also the presenter on BBC Radio Ulster's, 'Across the Line' the BBC Introducing Show for Northern Ireland. This is where I champion a vast array of genres and great acts alike. These skills can be transferred to performance and songwriting as it is my job to listen to songs in depth and speak confidently about them on air.
7. What opportunities have Glasgowbury provided to help develop your creative skills and/or career?
Glasgowbury have developed my creative skills vastly and in turn have helped my career. I used to learn guitar here myself and attend rural key workshops regularly. Without them I wouldn't be able to play guitar as well as I can today or be as confident within my own songwriting abilities. Glasgowbury gave me my first opportunity to appear on radio as a guest and gave me my first major festival slot. Without these opportunities and encouragement I wouldn't be doing what I do now, and for that I am very thankful.
8. Without Glasgowbury would you have had any alternative local options, to develop these skills without having to travel to the bigger cities?
I would not have had any other local options to develop these skills if Glasgowbury had not been there. It would have meant travelling to Derry or Belfast.
HIDE TEXT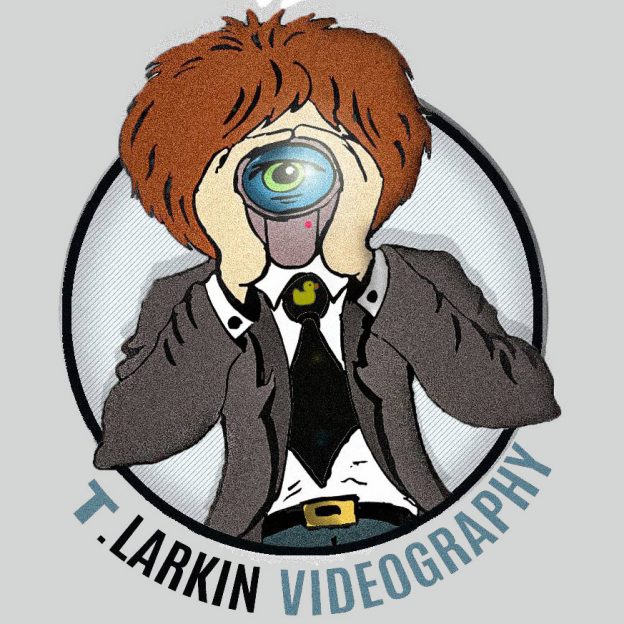 Tiarnan Larkin
Hi, my name is Tiarnan. I have been involved with Glasgowbury for three years. I would describe myself as the in-house go to guy when it comes to any projects that are film and video related. In my three years with Glasgowbury I have worked on many projects such as promotional films and the many projects they offer for young people. Some of this work has been showcased on Irish TV.
READ MORE
This experience has lead to me facilitating my own workshops in Film Making and Animation for young people in the Cornstore Creative Hub and also the successful rolling out of these workshops to local schools. In the past I have won various awards in film, animation and surprisingly sculpture, these include Best Animation at the Derry Foyle Film Festival and the British Film Institute Future Filmmaker Award. Before university, I also won the Thomas Devlin fund for Peace Sculpture to help toward the funding of my studies. I studied my Degree in Fine Arts at University of Ulster in Belfast specializing in Lens based media, achieving a First Class Honors. During this time I made many short art films which where shown in gallery's across Belfast. I feel this is where I began to hone my skills in creative ideas development, professional camera operation and post-production editing.
Recently with my work at Glasgowbury I have had my skills recognized by the local media Industry, I have secured work with ITV where I found myself as a camera operator for ITV's "21 Up – A New Generation" and have also worked with BBC/RTE as a Data Wrangler and Camera Assistant on "Keeping it Country" under the wing of experienced Cinematographer and Director Brian Martin via the wonderful Judy Wilson of Alley cats TV based in Derry.
With the help and support of everyone at Glasgowbury I have also launched my own Freelance Video Production business offering Music, Corporate, Promotional, Wedding and Event videos to a variety of clients. You can find examples of my work and details on how to book me for your project on my Facebook Business page. Also feel free to stop in to Glasgowbury Cornstore in Draperstown for a chat with me about your project, future workshops or just all things Film.
https://www.facebook.com/TLarkinVideography/
HIDE TEXT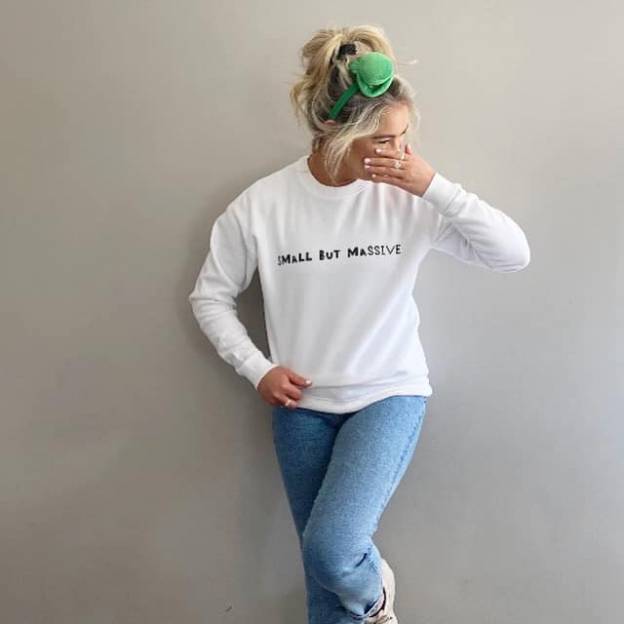 Caitríona Groogan
Hi! My name is Caitríona Groogan and I am the dance facilitator at Glasgowbury. I have been part of the Glasgowbury group from a young age, from participant to volunteer and now to teacher both for the Boogie Buddies inhouse classes and outreach to schools and community groups.
READ MORE
I have trained in Liverpool, Derry and Belfast and I graduated with a BA in Drama and Dance in 2016. I have since started my own dance company GCD (Groogan Creative Dance) and facilitate classes throughout the Mid Ulster area.
I have been working with children for 10 years, volunteering at dance classes, youth clubs and schools before starting to facilitate dance classes myself 5 years ago. I have a real passion for performing and just love passing on that enthusiasm and sharing my skills with others to help them become the best performer they can be, while of course having fun!
I am Access NI checked.
Feel free to contact me to hear about the GCD timetable, and classes running near you or for booking information.
I am available for private hire for:
Schools
Community Groups
Youth clubs
Parties
Wedding dance (Group or couple)
Dance Fitness
Events
and much much more! Just get in touch to find out about our different styles of dance on offer and all about GCD!
Contact me directly on:
Email: cgroogan@hotmail.com
Moblie: 07731438242
Facebook: GCD @GrooganCreativeDance
HIDE TEXT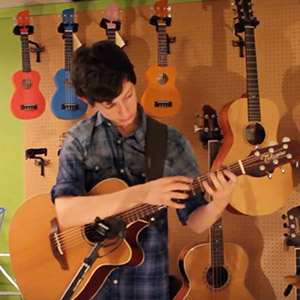 Ruiari O'Kane
Tell us about what you do here at Glasgowbury Creative Hub?
I've been a Guitar Tutor with Glasgowbury for the past 5 and a half years. I've taught all ages and I am mostly found with my acoustic or classical guitar on a Saturday.
READ MORE
What is your favourite thing about your role within the G Team?
My favourite thing has to be seeing people progress over the weeks and months. No matter what the aim of the individual, whether it is doing grades, helping with GCSE performance pieces, learning for fun, it's rewarding to be able to challenge people on a weekly basis to become better than what they were last week.
What has been a highlight of your time here?
It's hard to point out a specific highlight of my time here, from that first workshop in Summer 2010 to playing at Glasgowbury in 2012 to recording for my GCSE music composition upstairs in Glasgowbury. What does stick out though, is when looking back on it all, is how I feel I've grown up in Glasgowbury.
For you, what is the best thing about the creative hub?
For me, it has to be the community that Glasgowbury has created. Stella, Paddy, tutors, ex-tutors, the bands that are associated with Glasgowbury, students, past-students, parents, grandparents and everyone who has stepped foot into Glasgowbury. For such a small corner of the world, it's amazing to see so many people get together in the same building to enjoy the benefits that making and enjoying art, music and film bring.
Has there been a moment when you felt that you really achieved something, or assisted with a participant achieving their goal?
Very often, around the examination period for graded exams, students often get very nervous and fret. Seeing students overcome this and come out the other side, often with distinctions can be very rewarding, particularly seeing them gain confidence. Often, we put on a showcase for students and helping students perform to a crowd for the very first time with the whole rigmarole of microphones, speakers etc. Reflecting back on the journey from their first lesson to that stage and having been apart of that is an honour.
What are your skills and experience?
I've been playing guitar for the past 11 years. I've played in different bands and gigged in different places and luckily, I was able to experience playing at Glasgowbury in 2012. I've done all my guitar grades and have a Distinction in Grade 8 RGT LCM Guitar.
What opportunities has Glasgowbury provided to help develop your creative skills and/or career?
Currently, I'm a 3rd year Dental Student in Queen's University, Belfast. So while I didn't go down the creative route in terms of a career, the years in Glasgowbury has helped me immeasurably in terms of building confidence, time management skills and managing the pressure of performing on radio and TV compared to the pressure of completing a root filling in Dentistry.
Not to mention how playing a musical instrument can help with your manual dexterity.
Without Glasgowbury would you have had any alternative local options, to develop these skills without having to travel to the bigger cities?
Outside of Belfast and Derry, I don't think there's anything comparable to what is offered at Glasgowbury.
There are other music schools in Mid-Ulster, that I have both worked at and been offered jobs at but none are quite like Glasgowbury.
HIDE TEXT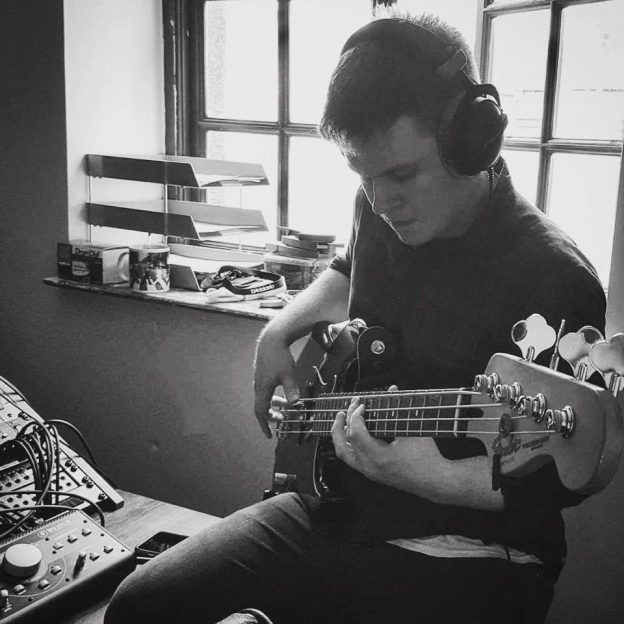 Nathan Murray
Recording and Mixing Engineer
I'm Nathan, and I've been involved with Glasgowbury since 2005. Attending the Rural Key Project, attending and working at the festival and now I am working as a recording and mixing engineer in the Small But Massive studio at the Cornstore in Draperstown and facilitating workshops in Music Production in the Rural Key Project.
READ MORE
Over the years I have been involved in music through playing in bands, live sound engineering and recording and mixing bands.
I received a Higher National Diploma in Music Production in 2015 at North West Regional College and since then I have been working in Ping Music Shop in Magherafelt and here at Glasgowbury.
We have a lot of great equipment here to record your music/sounds/noises with. Check out the studio page and get in touch.
HIDE TEXT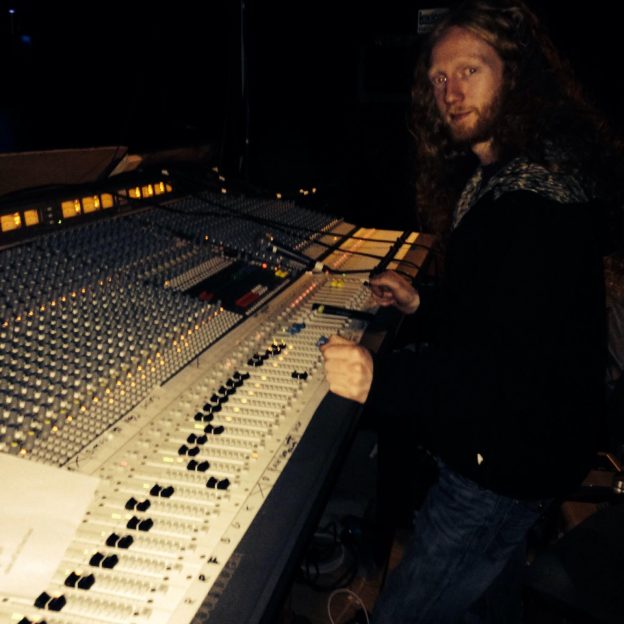 Francis McEldowney
My names Francis McEldowney, I've been involved with Glasgowbury since 2004, attending the Rural Key Project in 2005 and working at the festival since 2006. Now working as the In-house sound engineer at the 'Live in the Loft' venue located in the Glasgowbruy Creative Hub, Draperstown; also recording and mix engineer in the Small But Massive studio.
READ MORE
I also facilitate workshops in Music Production on the Rural Key Project.
Through the years ive taken on many different roles at the Glasgowbury Music Festival and in the Creative Hub gaining valuable knowledge from the award winning festival and Uk Promoter of the year.
I am currently setting up my own production crew and working as a freelance engineer.
I hope too see you at one of our gigs!
HIDE TEXT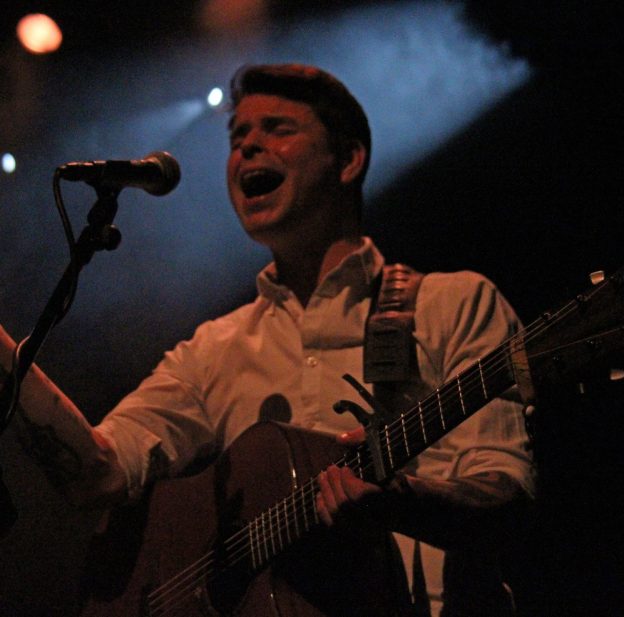 Liam McGuigan
Guitar lessons for older youth and adults are facilitated by Liam Mc Guigan. Having studied Music Business and Technology at Derry's Nerve Centre Liam has been tutoring acoustic guitar for over 10 years.
READ MORE
He plays guitar, harmonica and vocals with the popular band, Paddy Nash and the Happy Enchiladas. Currently recording their third album the band has vast performance experience with UK and Ireland gigs and festival slots and sell out headline and support shows including the Millennium Forum and Ulster Hall. Tuition includes learning chords, chord progression and technique, song structures, learning songs and jam sessions.
HIDE TEXT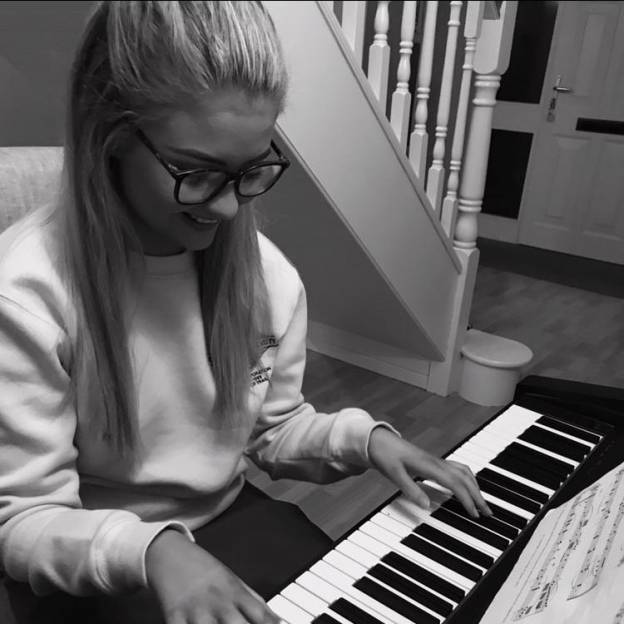 Kate Henry
Hi, my name is Kate Henry and I am a piano tutor here at Glasgowbury.
I have played piano from a young age completing my grades as the years progressed. I play mainly classical music as well as enjoying traditional songs on the piano.
READ MORE
I enjoy teaching students of all ages. I teach a wide range of piano, this includes grades as well as students learning fun and enjoyable songs.
I also attended the Saturday morning NEELB's youth orchestra for ten years, whilst also completing my grades in classical violin.
I enjoy working in Glasgowbury as I love seeing the opportunities it creates for all the students and people in the community.
HIDE TEXT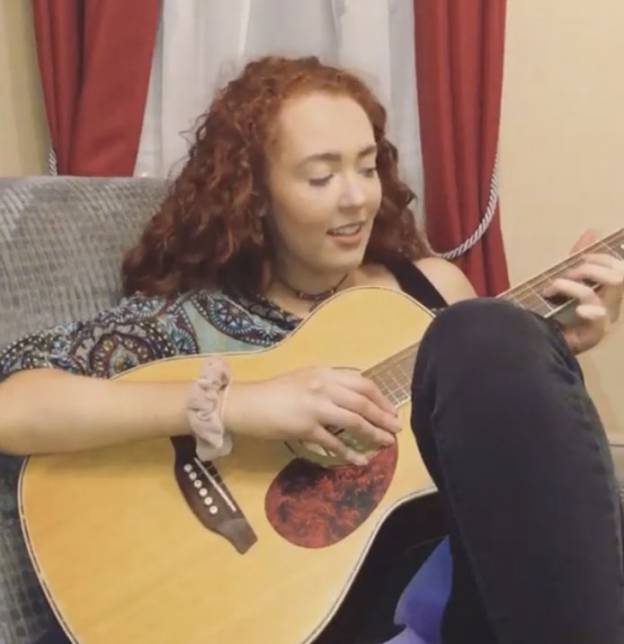 Cora Rafferty
Hi, I'm Cora I'm 18 and I have been a violin and guitar tutor in Glasgowbury since 2018 . I started learning guitar and piano in Glasgowbury when I was 11 and violin in school when I was 8 completing grade 5.
READ MORE
I have been involved in many Rural Key workshops and showcases which have enhanced my confidence and performance skills in music. I have also studied music for GCSE. I have had the full Glasgowbury experience being a student and now a tutor.
HIDE TEXT
Glasgowbury is governed by a board of voluntary directors from the local community who serve to ensure we are meeting our aims and objectives. They are –
Chair:               Emmet Heron
Treasurer:       Patricia Bradley
Director:          Dr William Burke
Director:          Cathal O'Connor
User Member:  Marlene McSorley