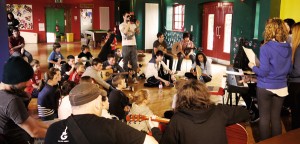 From 15th – 18th July Glasgowbury is running workshops for kids aged 8 – 18yrs in all things musical to complement the ongoing 'Rural Key' professional tuition programme that develops musicians throughout the year in the Creative Hub in Draperstown.
The 'smallbutMASSIVE' summer sessions are for young musicians looking to develop their technique, their confidence as live performers or simply just to have fun. So if you're a guitarist, singer, songwriter, bassist, drummer, DJ or aspiring producer this is the place for you! There will be specific music workshops tailored for the complete beginner.
In addition, to introduce you to other programmes available at Glasgowbury's Creative Hub there will be workshops in dance, digital music making, comic making, film making and theatre. The 'smallbutMASSIVE' Samba Band is also recruiting new members and there will be an opportunity to attend a session to see if this energising and stimulating musical activity is for you!
A highlight of the summer programme will be a performance opportunity for participants at the Creative Hub's first all ages G Session headlined by, local band and Rural Key alumni, The Wood Burning Savages fresh from their appearance on the Radio 1 Introducing Stage at the mighty Glastonbury Festival in Somerset.
Glasgowbury are fortunate to have a great network of friends and colleagues who are excellent musicians and tutors. They all have a great deal of experience and have spent many years studying and honing their art as performers, writers, technicians and masters of their chosen instrument. Tutors for this programme include local songstress Shauna Tohill of 'Silhouette', The Wood Burning Savages, Paddy and Liam from Paddy Nash and the Happy Enchiladas.
A number of workshops are free and others will have a nominal charge. Check online for full programme details.
Numbers are limited so early contact is advised to secure your place.
To register contact Glasgowbury:
02879628428
workshops@glasgowbury.com or call into the Creative Hub situated in the Cornstore, Back Road, Draperstown.
The Summer Sessions have been supported by Workspace Ltd, DARD Rural Challenge programme, Arts Council NI through the Annual Support for Organisations programme and Samdec Security Enniskillen.
DATE
TIME
AGE
ACTIVITY
Tuesday 15th July
£3
10am – 12.30pm
8– 11yrs
African/Samba drumming – learn rhythmic beats and techniques that will enhance your overall rhythm and the playing of any instrument

Singing/Vocal Coaching – learn techniques and exercises to improve your singing voice

Electric Guitar – guitar sounds and the use of effects

£3
1.30pm – 4pm
8-11 yrs
African/Samba drumming – learn rhythmic beats and techniques that will enhance your overall rhythm and the playing of any instrument

Singing/Vocal Coaching – learn techniques and exercises to improve your singing voice

Electric Guitar or Acoustic Guitar – guitar sounds and the use of effects. Introduction to acoustic guitar playing for beginners

£2
6pm – 7.15pm
8-11 yrs
Dance –choreography and improvisation using popular music videos
£2
7.30pm – 8.45pm
12 – 18yrs
Dance  – choreography and improvisation using popular music videos
FOC
6pm – 8.30pm
14 yrs up
Theatre – Group Discussion & Info session for students studying performing arts or interested in theatre/drama
£3
6pm – 8.30pm
12 – 18yrs
Film Making Short film making using smart phones/ipads/digital cameras
Wednesday 16th July £3
10am – 12.30am
8-11yrs
Comic Making  – Create a character and tell their story in comic book format using handrawn, freestyle techniques.
£3
10am – 12.30am
8-11 yrs
Djing – Intro to various types of DJ and DJ techniques and music selection

Digital Music Making – Using ipads and apps to make music

£3
1.30pm – 4pm
8-11yrs
Comic Making  – Create a character and tell their story in comic book format using handrawn, freestyle techniques.
£3
1.30pm – 4pm
8-11 yrs
Djing – Intro to various types of DJ and DJ techniques and music selection

Digital Music Making – Using ipads and apps to make music

£3
6pm – 8.30pm
12 – 18yrs
Comic Making – Create a character and tell their story in comic book format using handrawn, freestyle techniques.
£3
6pm – 8.30pm
12 – 18 yrs
DJing – Intro to various types of DJ and DJ techniques and music selection
Thursday 17th July £5
10am – 4pm
12 – 18yrs
Artist Development Get to know each other / jam session /Instrumental Techniques – electric & acoustic guitar, bass and drums / Songwriting / Vocal Coaching / Music Production (introduction to recording techniques)
FOC
7pm – 9pm
12yrs up
Small But Massive Samba Band – learn Brazilian and African rhythmic beats and techniques that will enhance your overall rhythm and the playing of any instrument
FOC
7pm – 9pm
12 – 18yrs
Beginners Acoustic Guitar – Introduction to acoustic guitar playing for beginners
Friday 18th July £5
10am – 4pm
12 – 18yrs
Band Development Workshop – Participants will get the opportunity to form a band and rehearse pre selected songs or own original pieces and develop stage presence.
5pm – 7pm
Rehearsals/soundcheck– Performers will get the chance to rehearse and soundcheck for the evening gig. Music production participants will assist with the stage set up and soundcheck.
7pm – 9pm
G Session – all ages gig featuring some participants and headlined by The Wood Burning Savages