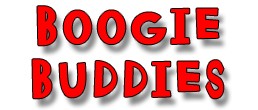 BOOGIE BUDDIES, a dance initiative from the award winning Glasgowbury Music Group, has launched in Mid-Ulster.
Offered as an alternative art form and strand of recreation, the programme offers children and adults the chance to get involved in a professionally run dance course.
Organised by Glasgowbury in partnership with local dance tutors, the course provides an introduction to dance and alternative dance structures for all.
The dance groups perform movement games, learn and follow choreography, improvise and create their own dance sequences.
Sessions are split into categories and will take place at various times throughout the year. Keep an eye on www.glasgowbury.com for all updates and announcements.
For more information, contact Glasgowbury on: 028 796 28428, email: events@glasgowbury.com or call into the Glasgowbury office in Draperstown.
-
small but MASSIVE!