March is Creativity Month here in Northern Ireland.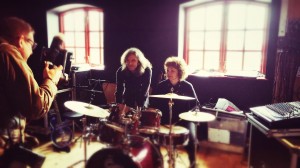 In honour of this, we'll be posting pictures on Facebook everyday throughout the month of March to give you an insight into what's happening on a daily basis at the Cornstore Creative Hub. We look forward to expanding our current creative development and community arts programmes, as well as making films and launching EPs!!.
We also look forward to welcoming Mr Christopher Gunning, renowned composer of music for television, concert hall and films. He has composed seven symphonies, numerous concertos and other concert works, as well as written music for shows like Poirot. He has won four BAFTA's,  three Ivor Novello Awards and BASCA's prestigious Gold Badge Award. Mr Gunning will be facilitating a workshop for our Rural Key participants.
Since our last update lots of exciting things have happened. We have received funding from DCAL towards the Rural Key Programme, an access progression route into the Creative Industries. We have also received funding from them for a much needed multi-use vehicle. Both the DCAL Minister Caral Ni Chuilin and the MEP Martina Anderson visited the Cornstore in February. Ms Anderson said that our "innovative approach means young people living in rural areas are able to access state-of-the-art services", and that we are delivering "first class" community services.
On the 19th of February, Rural Key participant and Glasgowbury Youth Tutor Gemma Bradley travelled to the O2 in London to perform in the final of the Big Music Project competition. Huge congratulations to Gemma for this achievement and the praise she received from Virgin EMI and RCA Records. Gemma has also released her first single, "Wicker Men" on iTunes https://itun.es/gb/za0P5 .
Our very own Paddy Glasgow was interviewed by Irish TV. The interview will be aired on Sky Channel 191 on Friday the 6th of March at 7pm- worth a watch!
We had a ball when we took part in "The Hopper Challenge", a gruelling race across a brutal stretch of floor where all the competitors are mounted on space-hoppers. Glory was won and hopes were shattered in this space age extravaganza. Video footage of the shenanigans is available at this link- Hopper Video
The history and heritage of Draperstown has entered the digital age thanks to an exciting FREE audio app produced by Bcreative Media and the Sperrin's Gateway Landscape Partnership.
Further content for the app is being sourced and locals can add their stories, memories and images of times gone by via www.draperstown.wordpress.com or they can email info.draperstown@gmail.com or call in and chat to Dermot McBride based at the Cornstore. You can view the app at this address IZI.Travel
While the creative hub is Draperstown based we aspire to offer the services to all those with creative inklings from throughout the district. Having a limited marketing budget we are relying on the Power of the People to spread the word, share our facebook statuses and tell people about our work – Changing Lives, Strengthening Communities and Nurturing Talent. Thanks in advance!
Fundraising –
Glasgowbury is a registered charity and donations are welcome towards ongoing programmes in Community Arts and Creative Industries Development. We are currently developing a sustainability plan which will include fundraising appeals and initiatives. A key priority is to further diversify our sources of income, to enable us to invest in more projects and people. Further information on how you can support the 'smallbutMASSIVE!' vision to follow soon!
In the meantime…
If you are feeling generous we accept ongoing donations at the Cornstore or Just Text Donate :
Buzz44 £3 to 70070 (£3 is a suggested donation but happy to take more or less, just change the £ amount!)
Fundraise for us through sponsored activities eg marathons/sponsored events
Donations of unused instruments are also beneficial.
Corporate donations
We have been humbled by the generosity of people who have already donated instruments, enabling more young kids to participate in learning, and money towards ongoing programmes.
A small contribution will make a massive difference!
Infrastructure
G Team – opportunities available for volunteers to gain valuable experience with an award winning organisation – media marketing, project/events management, general programme assistance, fundraising. Linked with Millennium Volunteers. Suitable for students, graduates and others/adults with a bit of time to spare. (email gteam@glasgowbury.com)
Glasgowbury board – expressions of interest being accepted from the creative and business communities to join an innovative, social and creative charitable enterprise. (email info@glasgowbury.com)
With our ever expanding programme we are accepting expressions of interest for our tutor and casual workers database. (email gteam@glasgowbury.com)
G-Sessions and Other Live Shows
We have obtained our entertainments license for the Cornstore. Before we can open to the public though there are certain things that have to be done to the building so bear with us while all that is being put in place and we look forward to bringing you quality entertainment in 'The Loft'!